Reverse Osmosis Water Purification Systems
Providing Sales, Service, and installation of Water Treatment Systems
What's Reverse Osmosis?
Alaska Water Products is an independent dealers of many name brand Reverse Osmosis Water Purification Systems. The osmotic process is how plants draw water from the soil. Ordinarily, water in more dilute solutions (in the soil) moves through microscopic pores in a membrane (root cells) to more concentrated solutions (plant sap). Under water line pressure the process reverses, so that water is forced through the system membrane while dissolved solids are repelled and washed away.  Alaska Water Products Inc., has been helping Orange County residents and businesses with Reverse Osmosis Systems since 1993.
Reverse Osmosis: Residential and Commercial
We offer a full line of residential and commercial grade Reverse Osmosis Systems with either city line pressure or pump-assisted reverse osmosis (RO) systems to meet any clean water treatment requirement in Orange County.  Our experienced service team will make your high purity system a priority to run flawlessly and hands free as possible. With years of experience, our service team has the knowledge and capability to service your equipment to meet any demand.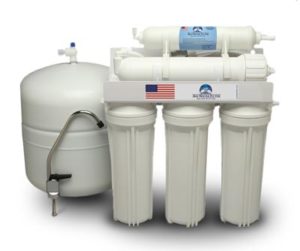 Our industrial and commercial water treatment systems are available from 100 to 500,000 gallons per day with custom configuration, installation and support are standard. Our systems are capable of producing 98% pure water or better. Our pumps, meters, controllers, and skids are designed to simplify your installation. We are capable of repair on any reverse osmosis system. We are proud to have clients in most industries. We can even provide reverse osmosis water in a worry-free installation for your work force for more cost-effective drinking water. We are capable of pre-treatment before the Reverse Osmosis (RO) System, exchanging membranes, and scheduled filter changes. Our systems can meet any demand at any desired purity. Double Pass, Triple Pass, and Side Stream Reverse Osmosis Systems are all in our capability local to you. Give us a call toll free with any questions about your current or future system, (800) 606-23391 or feel free to contact us.
We Sell and Service Reverse Osmosis Systems in Orange County
Services We Offer:
Call Alaska Water Products And Put An End To Your Hard Water Problems!
(800) 606-2339