Reverse Osmosis Service Done Right!
Reverse Osmosis Systems provide bottled quality water at your kitchen sink and a refrigerator icemaker and water dispenser. RO systems actually make water that is so pure you can see through an ice cube end to end along the edges. Alaska Water Products is your best choice for Reverse Osmosis Service in Orange County.
What is the advantage of having a reverse osmosis system in your home? The answer is that it can provide crystal clear drinking water that not only looks better but is also healthier for those who drink the water. Your taste buds will thank you for the better tasting water and ice cubes you can enjoy, and your body will appreciate the difference because of the health benefits that you will realize.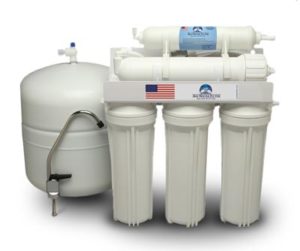 Reverse Osmosis Annual Service
All manufacturers of Reverse Osmosis systems require Reverse Osmosis Annual Service. The filters in your system must be replaced every year to continue to deliver crystal clear, great tasting water. The membrane must be replaced approximately every three years, as well. During the annual inspection, we will determine which components need to be replaced. Alaska Water Products Inc. provides reverse osmosis annual service for most water treatment systems in Orange County.
Services We Offer:
Call Alaska Water Products And Put An End To Your Hard Water Problems!
(800) 606-2339